Nominations closing at 12 noon on Tuesday 19/12/2023
GR AWARDS 2024 LAUNCHED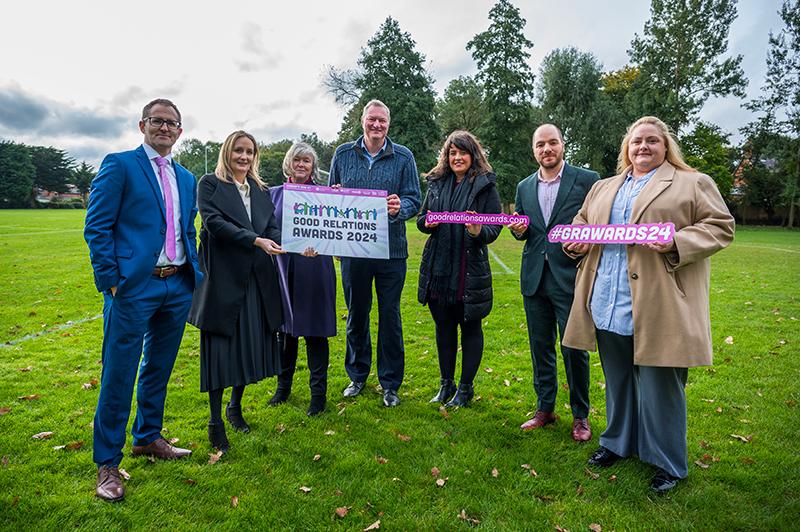 The Good Relations Awards 2024 are now open for nominations. The Awards will spotlight the vital role that members of the community throughout Northern Ireland play in delivering peacebuilding and community cohesion.
The Good Relations Awards are run annually by the Community Relations Council in partnership with The Executive Office (TEO). They recognise exceptional commitment to Good Relations work by those selfless individuals who go above and beyond, every single day, to make Northern Ireland a better place. The Awards celebrate those who unite and champion our local communities, and they also showcase the wide range of projects connecting communities though peace, understanding and cultural respect.
This crucial everyday peacebuilding work has an immense impact on all our lives, strengthening our sense of community in the places we live, work and play, as well as building towards a lasting and sustainable peace for all.
Building on the success of the expanded 2023 Good Relations Awards, this year there are five Award categories which will recognise the huge level of outstanding community relations, intercultural and peacebuilding work undertaken in local communities throughout Northern Ireland.
There are five award categories: The Community Relations Council Exceptional Achievement Award; Good Relations Volunteer of the Year Award; Good Relations Community Champion Award; Good Relations Youth Award (Under 25); and the Good Relations Connecting Communities Project of the Year Award.
Each of the Award categories is supported by a partner organisation: Volunteer Now; NICVA; NI Youth Forum, and Community Foundation for Northern Ireland.
If you know a local group, individual or organisation in Northern Ireland deserving of recognition for their work, then nominate now for the 2024 Good Relations Awards. The closing date for nominations is Tuesday 19 December 2024 at 12 noon.
Martin McDonald, MBE, Chair of the Community Relations Council, said: 
"The Community Relations Council is proud that we have delivered the Good Relations Award since 2006 to highlight exceptional achievements by local peacebuilders throughout Northern Ireland. The Good Relations Awards 2024 continues to expand this recognition of the wonderful work that goes on every day. We now work in partnership to deliver the Awards with TEO, NICVA, Community Foundation for Northern Ireland, NI Youth Forum, and Volunteer Now.

"The Good Relations Awards 2024 is a great opportunity to recognise the efforts of the people dedicated to delivering peacebuilding every day in Northern Ireland. This is to showcase those people working in our local communities, from grassroots level and upwards, who are tireless champions of peace and dedicated to making a real difference to all our lives.  

"We are keenly aware that many are currently experiencing challenging conditions, such as the cost-of-living crisis, and this affects peacebuilding groups too as they navigate a particularly difficult funding environment. It is more important than ever to highlight the people who are making a difference and helping to build lasting peace throughout the region. Nominate someone now at https://goodrelationsawards.com."
Chris Gardner, Director of Good Relations and T:BUC Division TEO, said:
"Now, more than ever, having healthy, connected and welcoming communities is a crucial part of the fabric of our society. Through the Together: Building a United Community (T:BUC) Strategy, The Executive Office is committed to improving community relations and continuing our shared purpose to improve people's lives.

"We are committed to working together, and with new and existing partners, to deliver a shared society for everyone. The extended Good Relations Awards programme, now in its second year, provides a vital opportunity for TEO to expand our partnership working and to come together to offer public recognition for the vital good relations work taking place in communities across the region.

"The Awards will also provide inspiration and opportunities to showcase best practice and shared learning opportunities for others to follow and I would encourage those working in good relations across the sector to put forward their nominations as soon as possible."
Deadline for completed applications: Tuesday 19 December 2023 at 12 noon.
 
Nominate today – please visit www.goodrelationsawards.com